Every dog is unique, just like every human.Different dogs have different needs, and it is our responsibility to recognize and meet those needs.
When you have a dog who has been through trauma, it's extra important to be sensitive to what makes your pup feel stressed and what makes it feel safe.
Sean Farrell is well aware of that and has put a lot of effort into making his rescue pup Buster as comfortable as possible.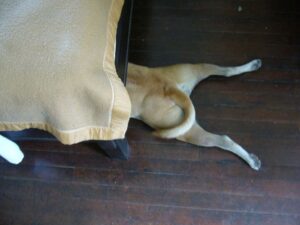 Buster is a Staffordshire bull terrier with severe anxiety.When the senior pup was living with his previous owner, he went through an unknown but deeply harrowing experience, which prompted authorities to intervene and remove Buster from the home.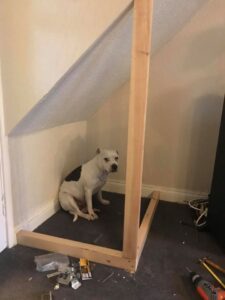 Farrell, who initially had only agreed to foster Buster, ended up falling I love with the sweet, timid pup and adopted him.
Buster's traumatic experience left him with considerable anxiety issues surrounding unknown men as well as generalized anxiety.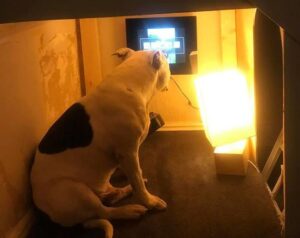 It was clear that the pup would require a lot of help to work through his issues, but Farrell was not discouraged.Indeed, Farrell has been working tirelessly with Buster to help him overcome his trust issues.Buster has used his cautious demeanor to work as a therapy dog for the sick and elderly in order to boost his social confidence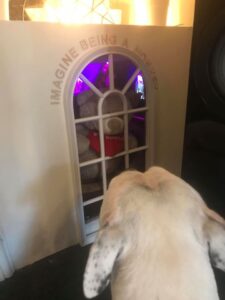 However, despite Farrell's and Buster's best efforts, Buster has continued to struggle with considerable anxiety and trust issues, with Buster often hiding away in the bedroom and refusing to come out.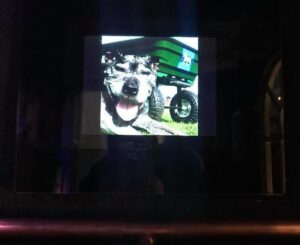 After losing his adopted brother and support system, a 17-year-old pup named Zook, Buster needed a way to feel safe and secure more than ever.
Farrell was ready to do anything for his sweet boy and eventually devised a plan.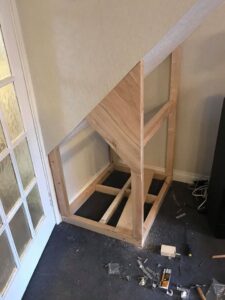 Clearly, Buster craved a safe space; his hours hiding in the bedroom indicated as much. But the bedroom didn't quite seem to cut it.
Buster needed, and deserved, a place that was just his.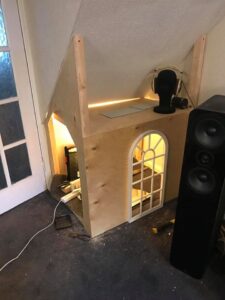 Farrell decided to build Buster his own small room where he could retreat whenever he felt overwhelmed or needed some alone time. The room would be a safe haven for Buster, hopefully improving his sense of security.
Farrell got to work and turned his dream into a reality. He built the room from scratch in a corner of the living room, complete with a small window so he could keep an eye on Buster while still feeling safe.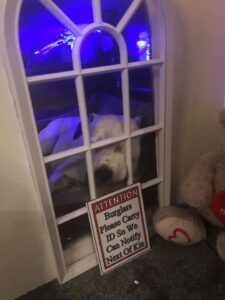 Farrell then decorated the room with everything Buster could need or want; nothing was too much for his sweet boy.
He put in lights, cute decorations, toys, a small tv screen meant to help with socialisation, a cosy bed and, of course, a few pictures of Zook to commemorate Buster's beloved brother.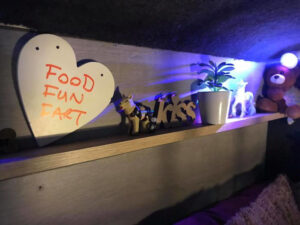 Farrell was nervous about showing Buster the room because he wasn't sure if the pup would like it.He didn't have to be concerned; as soon as Buster saw the room, he fell in love with it.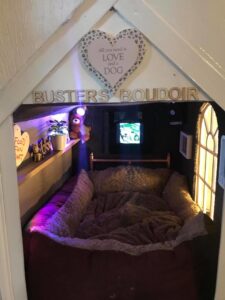 Now, Buster loves napping and spending time in his beautiful room.
He's very happy about having his own space and getting a chance to relax and feel protected.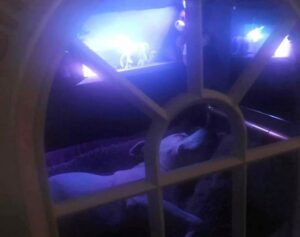 Farrell is a wonderful dog-dad and Buster is lucky to have such a dedicated and loving figure in his life.
The love they share is absolutely heartwarming and we're very happy that Buster has found someone who truly understands and cares for him.